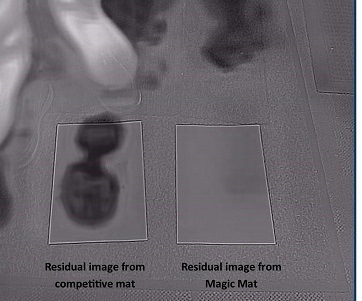 Another view of our 'walk-off' demonstration
At a recent trade show in our nation's capital, another exhibitor was watching our famous walk-off demonstration where we compare our Magic Mat against several competitive mats by walking through a tray of mud then across each mat and then on to clean white paper.
Typically, we get a lot of surprised responses when we do this demonstration, because the difference between our mat and our competitors mats is remarkable. There is virtually no residue left on the paper from our mats, but a significant muddy print left behind on the competitor mats.
This other exhibitor had a 'FLIR' attachment on his phone that allowed him to film thermal traces that are invisible to the naked eye. It shows heat signatures, just like police and military use to find people in the dark.
This image shows the walk-off demonstration from the point of view of a thermal footprint. The ghostly image clearly shows no residual imprint remaining from the Magic Mat side, but a distinct print remaining from the competitor mat.
This proves just how much of a difference that can and can't be seen when you choose the right matting for your home of work. Mats are supposed to stop the spread of what's outside from coming inside. Only Rismat mats stop the spread this effectively.