Neutra-Life Salt and Stain Remover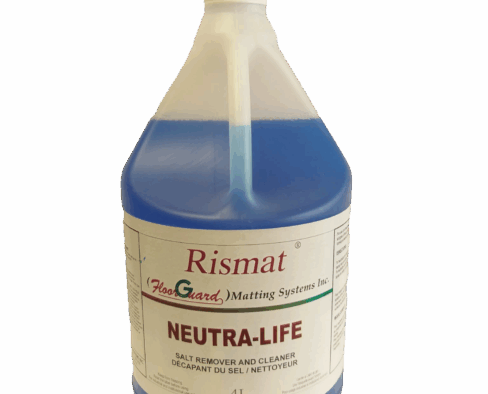 Neutra-life is a non-acidic, commercially neutral cleaner that is safe for use on any water washable surface. Using a 30ml/L solution of Neutra-life and cold water, this cleaner works by dissolving and lifting salt buildup that can be easily vacuumed off mats or wiped away off hard-surface floors. Most stains or residues that cause alkali browning can be removed using Neutra-life, and the solution will help bring the original colour back into those mats.

Features:
Unique, non-acid formula that removes salt residues from mats, carpets and floors

Dual function— heavy duty floor cleaner and salt stain remover

Neutralizes alkali residues on hard floors

Neutralizes alkali browning, brightening colour loss on carpets and mats
Use Directions – Dilution*—1:33 or 30mL/L with cold water
Ice Melter Removal (Hard Surfaces):

Use in a mop and bucket or auto scrubber to remove salt residue

Ice Melter Removal / Non-Browning Treatment (Mats/Carpets)

: Dilute Neutra-Life with water into the clean solution tank of a carpet extractor. Extract carpet to remove salt residue or to neutralize alkali browning/colour fading

Heavy Duty Floor Cleaning:

Use with mop and bucket or auto scrubber for use as heavy duty cleaner
*Increase concentration as needed for heavily soiled mats and carpets. Always spot test before use.
Appearance: Clear Blue Liquid

Scent: Pine

pH, Concentrate: 5.5—7.5

pH, 1:33 (dilution): 5.5—7.5

Specific Gravity: 1.05

Viscosity: 15-30 cps

Available Order Size: 4L jug or 20 L case (4x4L jugs)
Thank you for adding the antimicrobial mats in the right tab.
I will send that video over wetransfer shortly after sending this email.